"A play, even the angry and critical kind, is always on one level a love letter to the world, from which a loving acknowledgment is eagerly awaited. The trick, of course, is how to face the turndown and go back and write another letter – and to the same lover, no less."
Arthur Miller was the Socrates of American theatre – the gadfly stinging America from its torpor with his plays about American families, their betrayals and denials. His social commentary was poignant because he rooted it in the language of human relationships rather than polemic.
Miller would have been a hundred years old today, October 17th 2015. He died ten years ago having written some of the greatest stage dramas of the twentieth century.
By the mid-point of the century Miller had achieved literary fame as a major playwright with four plays in the space of eight years: All My Sons (1947), Death of a Salesman (1949), The Crucible (1953) and A View from the Bridge (1955), which is currently running in The Gate Theatre.
Many outside of the States might think Miller is universally revered, but his later plays were largely ignored and, despite his earlier successes, were rarely put on in his hometown of New York. There were two reasons why, firstly, Broadway had become a vehicle for commercial musicals and the second was that Americans didn't like how his plays criticised their way of life. This is illustrated by the shocking headline in the Wall Street Journal when he died:
"The Great Pretender: Arthur Miller wasn't well liked – and with good reason," 
His questioning spirit was at odds with some of the blind patriotism expected of citizens of the United States during his lifetime.
Miller created characters who continue to send out ripples about the American psyche that are felt time and again on stages around the world. He was a public intellectual operating against the grain and paid the price in being neglected in his later years in a divided America.
***
Miller grew up wealthy. His father was an immigrant's son, and though illiterate, opened a garment factory that became the second biggest in the country during the Jazz Age. But the American Dream didn't last for the Miller family. The Crash of 1929 bankrupted the business and sent the family in a reverse migration across the Brooklyn Bridge to live in relative poverty. It was here, on the other side of the Hudson, that Miller would find the germination of the character of Willy Loman amongst the have-nots; those most invested in the myths of American prosperity.
Miller's father could have gone a different route, or so Miller's mother liked to remind them. Bill Fox, a former garment factory employee, was 'sponging'* off wealthy businessmen seeking capital to set up a movie studio in California. He was offering a share in the company to Miller's father for the final fifty thousand dollars (many millions in today's money). Miller Snr. was tempted but in the end he declined to invest. As it turned out during the Great Depression he wasn't even able to afford a ticket to a 20th Century Fox movie which Bill Fox's venture would eventually become. The journey from rich to poor, during his formative years, would form the basis for much of Arthur Miller's artistic inspiration.
***
My first, lasting recollection of the theatre is as a fifteen year old in the West End of London at a production of Death of a Salesman. Brian Dennehy played Willy Loman. He was a big lumbering Willy full of passionate intensity and I can distinctly remember the hush amongst the audience as the curtain came down on his harrowing disintegration. The silence was punctured by the crowd finding their feet. A standing ovation, full of sobs and recognition, lasted for what seemed forever.
Even though it was written over fifty years before, the play spoke to that audience as clearly as it had to mid-century America. It was the shock of the new, the visceral connection to the truths that he was getting at, truths about America, family and promises of a world that were betrayed by the reality of life during the Great Depression. The universality of his metaphor travelled through time, as did the drama of the Loman family's struggle, to open up to a new theatre audience the gritty magic of his work.
When audiences first saw Salesman, Miller, who was then relatively unknown, used to stand at the back of the theatres and observe the reactions during the initial Broadway performances of the play in 1949,
"Strange things began to go on in the audience. With the curtain down, some people stood to put their coats on and then sat again, some, especially men, were bent forward covering their faces, and others were openly weeping. It seemed forever before someone remembered to applaud, and then there was no end to it."
One night Miller noticed an elderly and dapperly dressed gentlemen walking up the aisle muttering instructions to what seemed like his assistant, "This, I learned, was Bernard Gimbel, head of the department store chain, who that night gave an order that no one in his stores was to be fired for being overage." Here was proof that drama could have an impact on real life.
***
Miller went to college in Michigan University and it was there that he wrote his first plays. But to say everything was a straight trajectory to success would be revisionist. Miller had average high school grades, and was initially rejected, twice, though Michigan don't advertise that point. He only got accepted into the university having written a letter to the Dean explaining how he changed his ways after working in a motor parts factory in Brooklyn. He'd become a serious fellow, he said.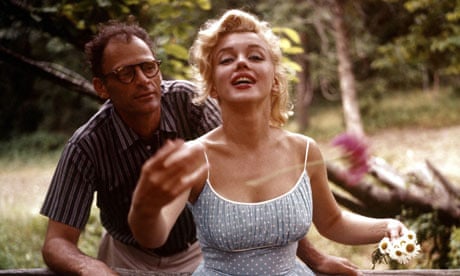 What attracted Miller to Michigan was the prestigious Avery Hopwood Award, which he won during his time there. This came with a substantial cash prize allowing him to focus on his writing. However, that small success turned into several unproduced plays,
"Within two years after leaving Michigan I had written six plays…Nearing thirty, having added two or three more unproduced plays to the pile, I began All My Sons as my final shot at playwriting…I laid myself a wager: I would hold back this play until I was sure as I could be that every page was integral to the whole and would work; then, if my judgement of it proved wrong, I would leave the theatre behind and write in other forms."
***
That was how close Miller came to giving up playwriting. But by the time he finished All My Sons, which was a family drama about war profiteering, he was Darwinian in his writing. He knew, "a play had to be fundamental enough to grab anybody, regardless." The audience of that time was "impatient with long speeches, ignorant of any literary allusions whatever, as merciless to losers as the prizefight crowd and as craven to winners, an audience that heard the word culture and reached for its hat".
This encouraged a premium on dramatised action over flowery literary language, "a shift toward full-blown plays with characters and story that asserted as little as possible verbally and dramatised as much as possible by action."
These rules were employed by Tennesse Williams, Eugene O'Neil and Miller and from their collective typewriters oozed a golden age of American drama. The forties through to the early fifties proved one of the most productive periods in stage history. Plays such as O'Neil's The Iceman Cometh was followed by Williams' The Glass Menagerie and A Streetcar Named Desire before Miller's Death of a Salesman and The Crucible rounded off a streak that confirmed Broadway as the centre of the literary world.
These plays were wired differently, they were tight and robust. There was "an underlying dramatic structure there that earned the play its right to sing poetically. Poetry in the theatre is not, or at least ought not be, a cause but a consequence" of the action on stage.
These classic plays came at the height of Broadway as a place for theatrical seriousness. A time when young playwrights could get their starts on the hallowed boards and one when Miller remarked that, with the exception of saving a life, there was nothing more important a man could do than write a play and it certainly felt that way.
***
Tennesse Williams' nickname was 'The Glorious Bird' and his language certainly soared but Miller's skill was in the way he manipulated the cadences of ordinary vernacular and coalesced his actors' speech into a sort of Brooklyn-Bronx street poetry. Everything he wrote was authentic, but the attention to detail and slight glitches in his dialogue heightened the eloquence without using language that would've been foreign to his cast of characters. For example Charley's speech in the Requiem in Salesman about Willy's life,
"Nobody dast blame this man. You don't understand: Willy was a salesman. And for a salesman, there is no rock bottom to the life. He don't put a bolt to a nut, he don't tell you the law or give you a medicine. He's a man way out there in the blue, riding on a smile and a shoeshine. And when they start not smiling back – that's an earthquake. And then you get yourself a couple of spots in your hat, and you're finished. Nobody dast blame this man. A salesman is got to dream, boy. It comes with the territory."
***
Two major events shaped Miller's outlook. The first was the Great Depression, and the second was the investigations and paranoia that gripped the United States during the McCarthy era. Miller would be called to testify in front of the House Un-American Activities Committee (HUAC) and his name put on trial.
This was a strange time in American politics, one when the freedoms and ideals so hard fought for in World War II were easily traded for a bland sameness of patriotism that pervaded. "Such were the times," is repeated by Miller whenever he discussed this bizarre era of finger-pointing and name-giving.
"For what I seemed to be saying was that art, at least good art, stands in contradiction to propaganda in the sense that a writer cannot make truth but only discover it."
When in front of the HUAC the chairman's final remark to Miller was: 'Why do you write so tragically about America? Why not direct your talents against Communist conspiracies?'
This point highlighted Miller's delight at the separation of powers inherent in the American Constitution. And he could also plead the fifth on this one because he had done something much greater than propaganda with his plays.
sponging was a term used in the garment industry for shrinking cloth and customers were never sure if they were getting the amount of cloth they had paid for.