About half an hour into Pals – The Irish At Gallipoli a female character played by Laura Murray enters the second floor living quarters in one of the wings of Collins Barracks carrying a bundle of envelopes. She stops in the middle of the room where we the audience are sitting on paraphernalia free bunk beds while the actors play out the action around, under and beside us. She reads out the names on the envelopes and flings them at us as she does.
The names she is reading aloud are the dead from "D Company" of the 7th Battalion of the Royal Dublin Fusiliers whose stories we've just been acquainted with. As the envelopes with their names come to rest at our feet it is impossible not to think about the lives lost. Frederick Joy lands at my feet and Patrick James Tobin's isn't far away.
Often our only encounter with war is in the form of a list of names. Each of the names represents a life and a story cut short. For the last year I've lived in an apartment in a converted church and as you come through the front doors and into the communal atrium there is a rare plaque on your left. It is comprised of the Irishmen from St.Kevin's Parish that served in the British Army in the First World War. You won't see many plaques around the city honouring them. They are a part of our forgotten war dead. Much like Vietnam veterans in the United States, their place in the Irish historical narrative is controversial because it doesn't fit into how we want to remember our past, especially the decade around the formation of the state. An asterisk is to the left of those soldiers that were killed in service: L.V Allingham, W. Jackson, P.T.E Jeffers, R.G Kelly, T.V Kelly, J.A McClean, W.J McClean, D.P McClean, W Perry, C Purdy, J.H Rankin, W.J Rankin, W (M.M) Roberts.
So why is it that names and lists are so important to us in remembering and marking wars? For me they trigger the stories behind each of those names. They act as gateways into the real and imagined past. ANU Productions have masterfully recreated, from letters and other historical artefacts, the last few days of training for these troops allowing us to empathise as we see the emotions, normality and naivety of a group who only weeks later met wars' deplorable end-game.
***
The play starts as a historical tour where our guide sets the scene in the square in Collins Barracks telling us about a group of soldiers who were all 'pals'. Pals was a recruitment drive by the British government to sign up athletic and sporting clubs as a unit. "D Company" was comprised of rugby players no different from your Ronan O'Garas or Brian O'Driscolls of today. They enlisted at Lansdowne Road not out of economic necessity but with a sense of wanderlust and a wish to see the world with their friends who they played rugby with at the club. They all presumed they'd be back by Christmas, most never returned. 131 of the 7th Battalion's 220 soldiers that headed off from Dublin were dead or wounded within a week of arriving at Gallipoli in 1915.
The sun is blazing and Spring has finally arrived in Collins Barracks. Not everyone is there for the play but some can't help but follow the commotion as the soldiers march up and down. People train their camera phones on them recording every step, salute and shout which has suddenly brought their museum trip to life. This is theatre where the fourth wall has been taken down and it's actually happening.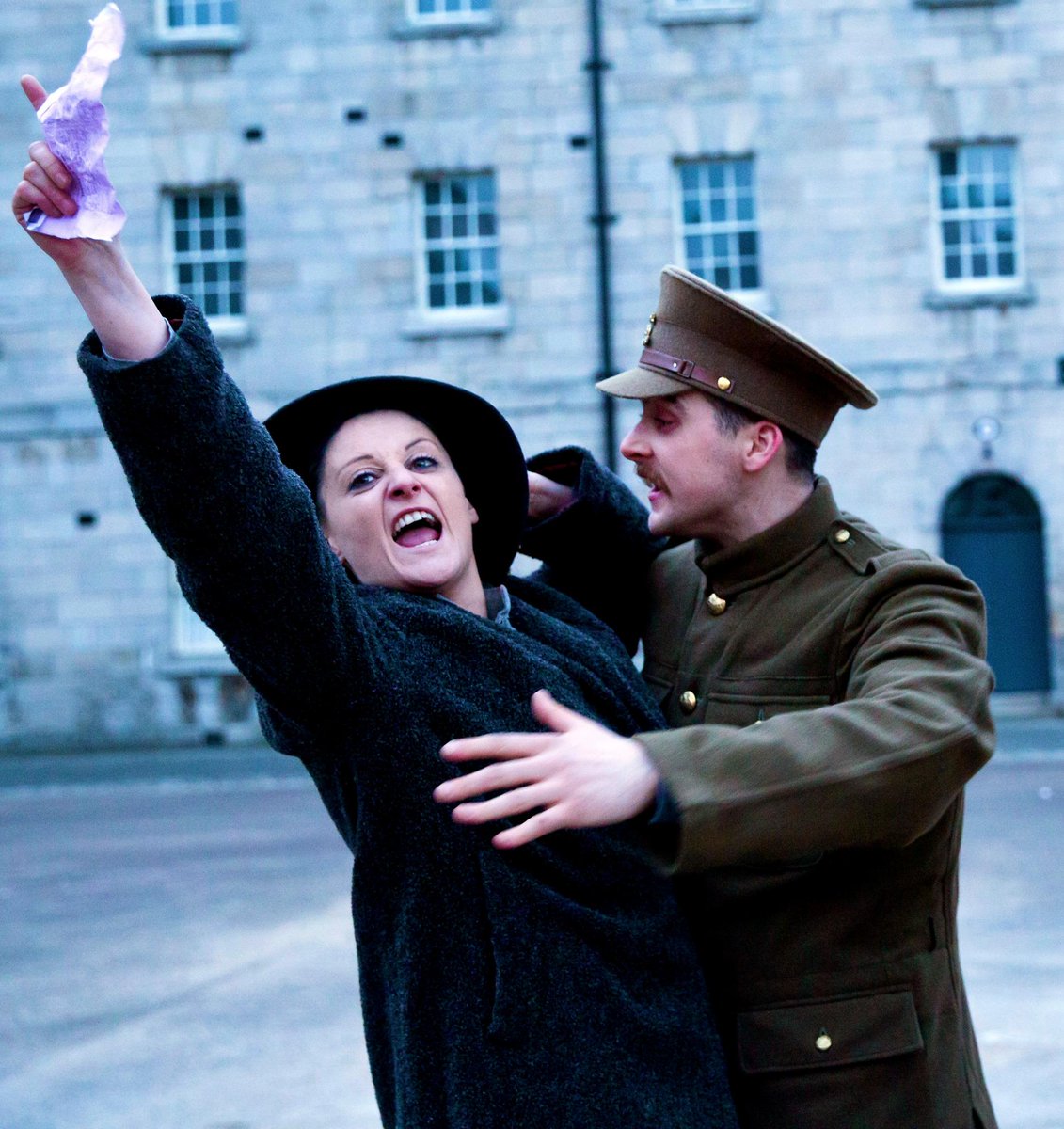 Our tour guide is interrupted by the past she is referring to as an officer barks orders at a bedraggled soldier. They are in the middle of drills. A women walks towards us holding a piece of paper. She needs to get it signed so she can collect money for her kids, she tells us. Their father has abandoned them to go to war. Here the line between staid history and vividly recreated past blurs as we move back to April, 1915 – a time when Collins Barracks was called the Royal Barracks. The woman asks the audience bluntly what we think of her husband before she spots "the coward!" in the middle of the square being put through his paces and goes up and abuses him. We follow.
Soldiers jeer from the windows and there's a jolly sense of excitement in the air as the first scene ends. When we're brought into the barracks, our tour guide has to inform stranglers at the back of the group that this is actually a paid performance and they can't tag along. We climb flights of stairs while troops pass us going the other way. They talk lightly of their plans to go to a dance. We're ushered into their digs.
In this room we are left sitting and the action unfolds in front of us. A dreamlike sequence melds together arresting scenes from the battlefields, banter from training and despair from a hospital as emotions ebb and flow between flying shrapnel and bonds that are strengthened then suddenly ended by violent death.
***
What is so unique about ANU Productions and the immersive theatre they produce is summed up by the awkward audience interactions with the players and how we are sucked into the drama. When they approach us saying their lines we proffer a response or extend a hand to shake theirs. Powerful rhetorical questions are delivered to the audience while the actors hold your gaze. "Would you lead them differently?" asks John Cronin as his character's troops are slaughtered on a battlefield ridge. "Do you think Ireland is proud of us?" is the question we already, shamefully, know the answer to.
These lads, whose lives we've just seen destroyed, are the forgotten ones and we are urged from our seats by them as the mood turns to joy once more and we hear sounds from the courtyard. We're heading out for the parade to send them off. They ask us to take pictures with them. Their families are out there too. There's music, smiles and cheer; it's all joyous. However, the poignancy of their naive excitement must be etched on our faces for them to see because it's almost unbearable for us knowing where they're headed.
As voyeurs we are captivated from start to finish. Then, only 45 minutes later, it fades again. The parade is gone but as we walk past the staid history it's now imbued with a greater depth. This company of pals are a small part of the 200,000 Irish servicemen that fought for Britain in the First World War. They have occupied a controversial No Man's Land in our collective national narrative which next year will be marked by the centenary of the 1916 Rising. ANU has made us engage with their stories and we're left with a sense of shame that they've been neglected for so long.
Pals runs until April 30th, there are multiple shows from Wednesday to Saturday and three on Sundays. Go along, it is the best five euro's entertainment around.
Book here: http://pals-theirishatgallipoli.com/booking/
***