"At first I did adore a twinkling star. But now I worship a celestial sun"                                                                                              – The Two Gentlemen of Verona
A jobbing actor is a happy and busy man. Manus Halligan meets me in Grand Canal Dock outside The Lir Theatre and brings me inside. There has been no rest for him recently. He's just finished rehearsing Reckoners for the day. It will be his third show in the last month. He worked on a show called 5 Minutes Later and before that he played a jittery loner in Phillip Doherty's Shell-shock in his native Cavan. The overlapping projects meant he was rehearsing one play during the day and performing another at night for the last fortnight. This time of year is theatre festival season and it's an actor's shop window. Manus is busy but he wouldn't have it any other way.
We enter The Lir as the cast members of Reckoners are leaving after a day's rehearsals. We snake through the maze of corridors past the vast workshop and by a wall of hard hats and high viz jackets. Much of it resembles a carpenter's warehouse. Here is where stages are built to spec. We come out into a communal kitchen and lounging area and find a secluded corner to start the interview.
*****
Manus Halligan is a college theatre success story. As a bright eyed 17 year old he left Cavan for Trinity College to study Geography and Sociology. He admits he was perhaps a bit young. But within a month he was in the library until five am on a steady diet of notes and caffeine. It is usually third year before most students experience the first throws of coffee induced insomnia. He was not there to cram for Geography or Sociology though. He was there because he had been cast by Trinity Players as one of the gentlemen in Shakespeare's The Two Gentlemen of Verona. And whilst the play is a comedy the funny side of learning Elizabethan blank verse was lost on a first year Manus. Baffled by the language and the sheer scale of what he had to learn admits he froze on stage in front of the crowd. "Thankfully college productions of Shakespeare aren't the hottest ticket in town," so there wasn't a big crowd. As he is recounting this story to me Manus looks up and points to the Bard who's glaring at him from a billboard poster advertising a production of The Merchant of Venice and chuckles. Manus is smiling more often than he's not. An experience like that would scar much more experienced actors.
Manus had only been on stage once before Players and that was for a secondary school musical. He had seen one play at the Abbey Theatre. It was on a Leaving Cert school trip that they went to see The Shaughraun by Dion Boucicault. The stage was foreign to him but given a glimpse he took to the lights. He went on to perform in eight plays that first year with Players and auditioned for acting schools in London, including RADA. His confidence was boosted by the fact that he got to the third round of interviews there; which meant a day spent in an acting workshop. There were thousands of applications to these schools so he reckoned that getting that far was a good enough endorsement of his year in theatre. With this realisation came another: perhaps what he was studying wasn't for him. He never attended Sociology lectures and from the few Geography ones he made it to he deduced that the tectonic plates within himself had shifted firmly towards drama. He applied and was accepted into Trinity's four year theatre and drama studies degree and started that after taking a year out.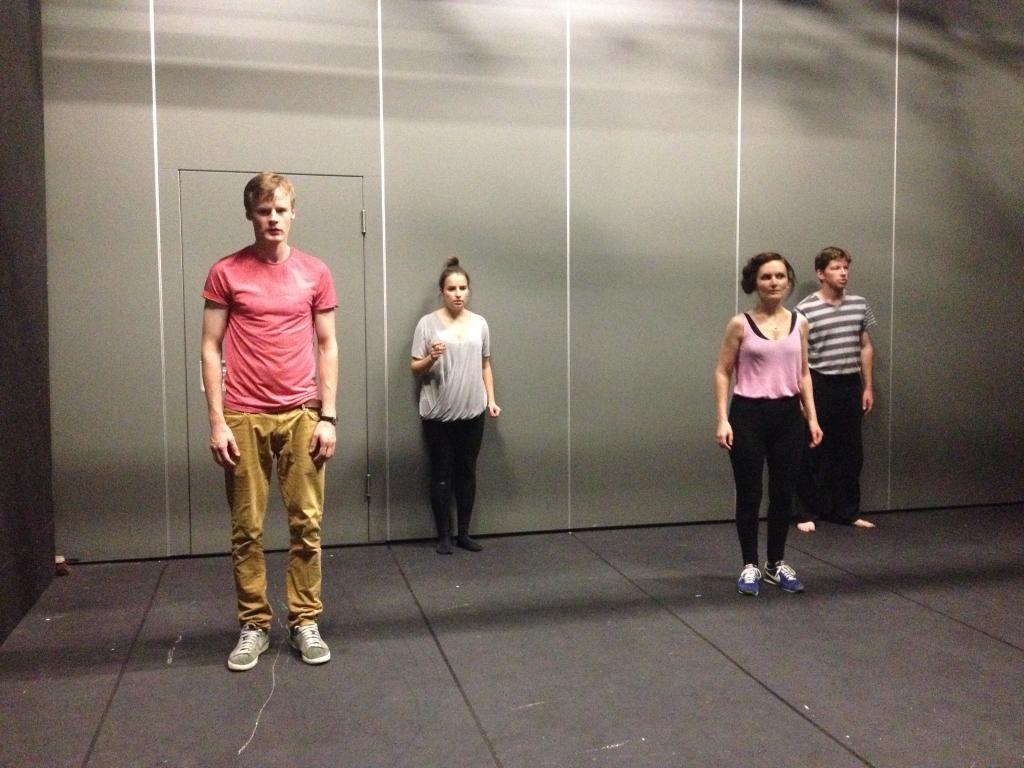 *****
Trinity was where he met fellow students Ross Dungan and Matthew Smyth. Ross is now a playwright and Matt a theatre producer and together they formed the 15th Oak theatre production company. Manus has worked with them before on the hugely successful The Life and Sort of Death of Eric Arygle and now he teams up with them and director Dan Herd again for Reckoners. Eric Arygle toured Edinburgh, London and New York and it was performed over a hundred times to much critical acclaim. The three lads also happen to live together in Rathmines and director Dan Herd has moved in while Reckoners is on. How is that dynamic? Living in a theatre household?
"It was their first time moving out, I'd been out of home since 17. We were college friends and in Players together in Trinity. It can be tough been constantly surrounded by the work. You have to be careful not to take your script freak-outs home with you after rehearsals. Freak-out alone; that's the rule. Sometimes it'd be nice to go home to people who are not involved in theatre at all. But that's not the case and it's great living with the lads. I remember when Ross wrote Reckoners. It was at a time that I happened not to be working and as a result I'd be home a lot and we'd be in the sitting room where Ross would be at the desk writing the play. I didn't even know I'd be in it at this stage. I'm not sure whether he wrote the character of Jamie McHugh with me in mind. Possibly. He's seen me on stage in everything I've done and I often play psychopaths or simple people. Jamie is definitely simple."
It is not unusual for friends to form theatre companies together in Ireland, especially just out of college. It is almost out of necessity for drama graduates looking to work. You're not going to walk into big roles in the Abbey or the Gate so in order to work you have to make your own shows. Matt and Ross did that with 15th Oak and Manus has been involved in a lot of their work. The Fringe is a festival that provides a platform for these young theatre companies to put on productions and gain some notoriety. It's a breeding ground where new writing and future leads can get the exposure needed to develop and hone their talents. This sort of experimentation and promotion of new theatre is lacking on the big stages in Dublin. Commercial reality makes them afraid of failure. What they do in The Gate, for example, is a commercial formula but it doesn't foster young writers or actors. They are in receipt of large grants from the state and perhaps these grants should be better aligned with promoting and developing new theatrical talent. There is definitely a disconnect between younger theatre audiences and places like The Gate and the Olympia – the average age of audiences for those two theatres is forty-plus. I know because I often drag that average down. Recently at Electric Picnic the writer Will Self said that the 'sagging, fat denim-arse of the middle-aged is smothering the youth' and publicly subsidised Dublin theatres is a place where this is in evidence.
Manus himself rarely attends those theatres because of the prices, yet he knows he could perhaps budget better to get to see more shows. He went to Ballyturk in the Olympia because his mother kindly bought him a ticket.
"The nature of art is that it isn't good all the time. It can't be. In order to produce good art you've to fail and learn from it. If the big theatres don't take risks then the future theatre makers have to look elsewhere for their apprenticeships and my generation have done that. There must be a place for people to learn their craft in front of an audience whether it be acting, directing or writing. The Fringe is one of the things filling that void. It has provided such a platform. There's great exposure around the event. The Irish Times review every show that's on. A good review can do a lot. It's that objective seal of approval that can sway a punter who's on the fence or trying to convince friends to go. That extra push helps a small show. The Fringe has the potential to attract non-theatre goers too. People go to the Fringe just because it's the Fringe, there's a buzz about it. You can get people who wouldn't usually go see a play coming along and if they like it they might go to a show outside of the Fringe. That's what theatre needs."
*****
Manus got his Abbey debut in a fantastic production of King Lear in February 2013. He shared the stage with Owen Roe, Lorcan Cranitch, John Kavanagh, Phelim Drew, Hugh O'Connor and Aaron Monaghan. These are some of the best actors in Irish theatre. What was it like? What did he learn from these established actors?
"Being on stage with actors like that is where I want to be. That's how you learn. I took note of how those guys went about their business. From the little things like being on time. They were always early. That seems like an obvious thing, but you'd be surprised at the amount of people that turn up late for rehearsals. I watched how they interacted with the director. It's important when you're on a show with guys of that caliber that you don't go into your shell. I don't. If I've something to say I'll say it. I mean I've four years studying drama (so) there's no point in not using that to my advantage. It was great to hear the Shakespearian language done every night for 8 weeks."
Manus is not out of place in that company and he knows that the more he works with actors of that caliber the quicker he can emulate their successes.
******
Coming off working on the other two shows, Manus hasn't had as much time to rehearse Reckoners as he would've liked. That can be the nature of the Fringe. The preview is Monday and as Boswell's Dr. Johnson said there's nothing like an execution in the morning to concentrate a man's mind. 15th Oak are familiar with this sort of pressure.
"Eric Arygle was the same. We had two weeks to rehearse that before heading to Edinburgh. There was lots of changes made during that run, lots of honing."
The luxury of a month long Edinburgh run is something that they don't have with Reckoners. It needs to be right by Tuesday for the opening night. A dark two man play set in a fictional outlaw town called 'The Stra' will be recounted to audiences by Manus and John Cronin. Their characters must face up to their pasts and in doing so reveal a violent new world over a dense ninety minute script. There has been music written especially for the play, which will add another layer to the production. It's running for a week and with these housemates involved it's bound to be good. Catch it in The Lir from Monday the 15th until Saturday the 20th with matinees on Friday and Saturday. I have my tickets booked, the Fringe does sell out, so get your tickets here.
That first glimpse of the Abbey stage as a schoolboy was his twinkling star. Theatre is now his 'celestial sun' and with three shows in a month it is burning bright for Manus Halligan.
Manus Halligan Showreel from Manus Halligan on Vimeo.