Irish theatre is in rude health. Summer is coming to an end and there will be theatre festivals on continuously over the coming months to entertain and distract us on shorter evenings. The Fringe kicks these off and runs from the 5th until the 20th of September. This is an opportunity to catch new and experimental theatre from companies that are not yet part of the Irish theatre establishment. Then the establishment gives experimentation a go and The Dublin Theatre Festival runs an eclectic and international programme for three weeks from the 25th of September to the 12th of October. So with all this choice coming and the economics of limited income restricting what I can go to, why have I returned to the Gate to see The Price for a second time?
I'm a massive Arthur Miller fan and I hadn't seen this play before so I was always going to catch it. In the past few years the Gate has developed what might be called an americana-style with their productions of Miller, Tennessee Williams and David Mamet. This production immediately captured my attention. It slipped effortlessly into that familiar Gate-Miller style – the grandeur of the stage picked away gradually by the gritty realism of Miller's text. The understated drama of the play lingered with me like an unsolved puzzle for weeks after and so, with a week left to run, I decided to catch it again before it finished. It's clearly a popular play as the queue for returns stretched up the steps from the box office on Wednesday night; the house was packed out.
A cluttered Gate stage is filled with a lifetime's collection of furniture that hangs in on the actors from the ceiling. Stuff is pilled everywhere, the most striking of which is a golden harp glistening in centre stage. The New York brownstone house is about to be levelled and this collection of the Franz family furniture must be sold. The drama is perfectly revealed as two brothers meet and a narrative is laid out for the audience. Every family can relate to the dynamic of dividing a will as it inevitably brings up past wounds.
The play is a meditation on family, the choices we make in life and the fact that we pay a price for those choices; the price we pay is that we live with the consequences of our pasts.
You wanted a real life. And that's an expensive thing; it costs.
In order to sell the furniture Victor Franz (Denis Conway), a police officer who is eligible for retirement but still can't stop serving, must negotiate a price with Gregory Solomon (Lewis J. Stadlen). This money is going to give Victor some financial freedom that his wife Ester (Fiona Bell) hopes will convince him to retire and allow them to live a little. Miller weaves the central metaphor of price in to the play through the sale of the antique furniture their deceased father hoarded in the top floor of their New York home. The father lost his wealth in the Wall Street crash of 1929, he wasn't alone, and soon after he lost his wife – he never bounced back from this double trauma.
Some men don't bounce.
Gregory Solomon was retired until Victor called him to appraise this furniture. At nearly ninety – having had four wives, double the amount of bankruptcies and the papers to prove he served in the navy – a dusty telephone book and a naïve call has reinvigorated this salesman – he is a man that has always bounced back. Lewis Stadlen steals the first half of the play with his acerbic Yiddish humour and facial features that imbue the character of Solomon with a vibrancy that belies his age. In the first act we see the shyster salesman work the meek cop by undermining the value of the furniture at every turn.
When it comes to used furniture you can't be emotional.
He does so artfully, verbally dancing around a price and revelling in the control he has over Victor, who just wants whatever he can get for the goods and to treat his demanding wife to a night on the town. Victor and Solomon strike a deal of $1,100 for all the furniture just as Walter Franz (Barry McGovern), Victor's towering, successful surgeon brother, enters the stage and the first half ends.
Walter Franz has clearly made money. Miller loves this dynamic: one character who has failed and one who has succeeded. They are then left on stage to trade jibes. Think Willy Loman versus Charlie in Death of a Salesman or Bruce Springsteen's line,
Down here it's just winners and losers and don't get caught on the wrong side of that line.
It's a very American story. Miller's life work articulated and dramatised the lives of ordinary working Americans and a part of that story is the narrative of the winner and the loser. The winner is always knowing, reflecting on the fact that his success and wealth haven't made him happy (he does this from a position of relative comfort). While the loser is entrenched, having chased the wrong dream, unable to properly provide and in Victor's case he's blind to the truth.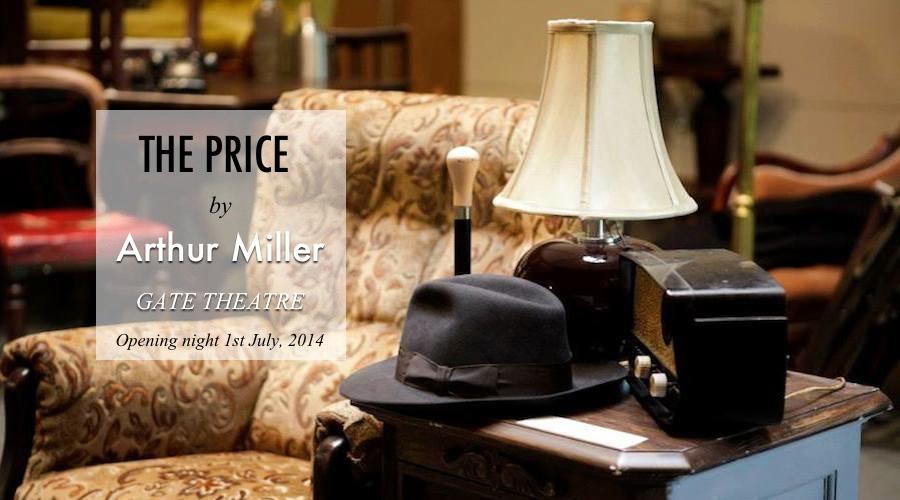 This truth is the crux of the drama in this play. It is revealed to the audience and we are left to choose a side, to offer sympathy one way or another, and this is where the acting is key to the play. Each of the roles is open to interpretation and often it rests with how the director and actors portray Victor and Walter. In this production it isn't clear-cut, they both have their failings but each story is plausible and each character is redeeming. I even went to see it twice to digest the drama in order to try figure out where my sympathies lay but perhaps the play's ambiguity is the reason why it speaks to a modern audience long after contemporary 'relevant' plays are no longer performed.
The past isn't dead. It isn't even past.
Victor gave up his college degree in science to look after their father after the crash. He served him, like he serves the people of New York now as a policeman; during his life he has gotten little thanks for either. As it turns out his father was not only hoarding furniture but also money, he wasn't as broke as he made out; he was afraid Victor would leave him but he never did. As a result Victor didn't complete his degree and never had a science career, instead he became a cop – went into service. Walter knew their father had money and never told Victor. He returns now hoping to make amends by offering him a job in his hospital. To Esther's dismay Victor is unable to serve his brother, to accept his charity or forgive him. The old familial wounds are still fresh. Victor has made his choices and he is determined to live with them. Even after the past is revealed to him.