Tony Clayton-Lea, Irish Times music critic and freelance writer, has curated a night called Culture Vultures which has run since March in Odessa. Its aim is to unearth and bring together on one single night, once a month, an eclectic triumvirate of performers and artists from across the arts world to showcase their creative talents to a new audience. The multi-discipline event is gathering momentum, and there is the potential for this to really take off.
I stumbled across Culture Vultures just last month. The act I knew drew me in: Lisa O'Neil for a tenner? This small folk vessel with Seanchai intro's and songs about Cavan's lack of transport infrastructure was perfect in the stuffed living room setting of Odessa. All the rest was only meant to be an additional bonus, was what I said going into it. But after leaving the event the closing gig was merely the familiar icing on what was already a great night. That's the essence of the Culture Vultures night: I went to see someone I knew and left talking about the opening act John Cummins of whom I hadn't heard of previously. Add to that an excellent interview with director Lenny Abrahamson about his upcoming film Frank, in which he squeezes Steve McQueen's superstar muse Michael Fassbender into a giant head for a whole film, and it's already way beyond interesting. That night was special.
My imagination had been captured by the format and I was so pleasantly surprised by the poetry of the opening act John Cummins. He calls himself a poetician on account of his deft, rhythmic delivery. His poems about football, muddy festivals and the chipper were so Irish yet so fresh and nuanced. His double meanings and rapper's elocution threw the listener only as far as the next syllable before he caught them with a viscerally funny image that hung in the listeners mind. His poem about his daughter on the Dart needs to be heard, I've scoured Youtube for it but I'll just have to go to another spoken word gig of his to hear it again. As it turns out he is doing a 20 minute set this Sunday at Family Day in the Iveagh Gardens, catch him if you can.
I do understand the difficulties in recreating such a potent mix as the above every month. The room was emptier last night for Daithi, Sean Nolan and Arthur Matthews but it was no less interesting.
Sean Nolan was described as "an acquired taste", but you had to admire his ability to make the audience awkwardly laugh by flicking through on-screen images of simple drawings he had done himself – I haven't seen a comedian do that live before. It struck me as a similar form of comedy to memes, the fodder for much of internet sharing. Arthur Matthews and interviewer Tony Clayton-Lea are old friends, Matthews said that it was Clayton-Lea who pushed him into his first writing gig for Hot Press Magazine. This was where he met friend and long-time collaborator 'Gif' who he started doing sketch comedy with – a duo was born. They moved to London and sent their bits into established comedy writers by scouring the credits of sketch shows they liked and mailing them. These comedians liked and used their sketches. Matthews has been working ever since. The last time he was up for a BAFTA was 1998 for Father Ted, tomorrow his show Toast of London is nominated in the situation comedy category.
Daithi is releasing his first album next month. He is an amalgam of old and new, the fiddle and house music. His sets are high energy as he bounces around behind a set of decks working in loops of his fiddle and different sounds to create Irish electro-pop and house tracks. Daithi will have tents all over Ireland bouncing with him during festival season but this set was a fascinating look at modern music making because the mixing we take for granted was done right in front of our eyes.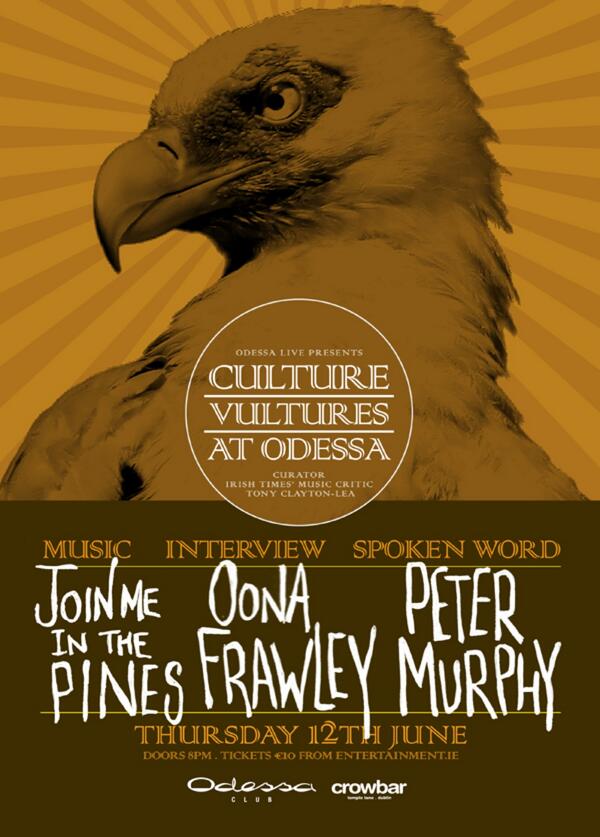 By the very nature of the format it can be hit and miss – but so far, from what I've seen, it's more hit than miss and I'm going again on Thursday the 12th of June. The music that night will be from a Bell X1 side project, the interview will be with Tramp Press debut novelist Oona Frawley and, perhaps most interestingly, there'll be a reading from a re-imagined version of Joyce's most famous short story The Dead by author Peter Murphy. The night in June is literary themed with the proximity of Bloomsday on June 16th. If you're free check it out.